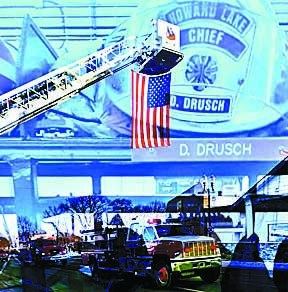 Fire Chief Daryl "Taddy" Drusch, a 30-year member of the Howard Lake Fire Department, died in the line of duty early in 2020. A procession brought Drusch home from Minneapolis to Howard Lake, where he was honored with a full Line of Duty funeral. He is deeply missed by his family, department, and community.
Fire Department
Information updated November 2020.
By the Howard Lake Fire Department
About the HLFD and Ambulance Service
Today's fire department provides far more services than fighting structure and grass fires. Members of the Howard Lake Fire Department and Ambulance Service (HLFD) protect human life and property during critical times of need. Whether it's fighting fires, storm watches, natural disaster response, traffic accidents, medical emergencies, and even missing persons reports – the HLFD is ready and responsive.
The HLFD currently services the City of Howard Lake; and Middleville, Victor, Albion, and Woodland Townships. Additionally, the ambulance service area covers the City of Waverly and Marysville Township. For larger or special circumstance responses, the HLFD receives and offers mutual aid to all other Wright County Fire Departments.
Serving beyond our borders
Throughout the past year, the HLFD has responded to some unique and challenging calls including the Becker Northern Recycling Metal Fire, and two US Highway 12 tanker fires. HLFD members take great pride in being active members and supporters of our community.
The HLFD raises funds and food for the Wright County Food Shelf, hosts annual Christmas Toy Drives, delivers pizzas for the Fallen Fighter Fund, participates in Good Neighbor Days, National Night Out, and countless other civic events. The HLFD stayed engaged with the community even during the COVID-19 pandemic, providing drive-by parades for youngsters on their birthdays.
Changing faces
   Like many small, rural departments the HLFD welcomes additional volunteers willing to step up and serve their community. Members of the HLFD receive hourly pay for calls, and a retirement fund that is based upon years of service.
This year, HLFD welcomed new members Nicole Kittock, Amanda Lobertman, and Seth Bravinder.
Saying goodbye …
  The HLFD started the year with heavy hearts, when Fire Chief Daryl "Taddy" Drusch passed away in the line of duty. Drusch had served as Howard Lake's fire chief since 2013. A large procession of fire and law enforcement accompanied Drusch home to Howard Lake, where a full Line of Duty Funeral Service took place.
Current fire department officers include:
Acting Chief: Keith Bobrowske
Chief 2: Craig Loebertmen
Captain: Eric Stoll
Captain 2: Alex Mages
Captain 3: David Peterson
Ambulance Director: Jake Drusch
Members: Tim Berg, Kurt Bobrowske, Seth Bravinder, Eric Cleasby, Chris Diers, Joe Drusch, Glenn Hofer, Brian Kittock, Nicole Kittock, Amanda Lobertmann, Damien Olson, Jeremy Peterson, Joe Sherod, Mical Sprya, Kurt Strub, Mark Stueven, Kyle Weich, and Andrew Yokiel.